4.5. Prescription Medication Label
---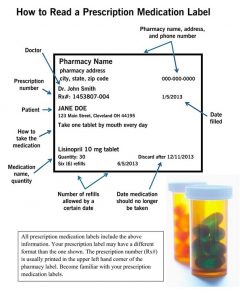 Prescription labels will contain:
Generic and/or trade name of the medication.
Frequency & dosage of the medication.
Number of doses of medication that are in the package/container.
Number of times this medication may be refilled.
Possible food, drink, or other drug interactions
Special instructions (i.e. allergy warnings, possible side effects, etc.)
Name of prescribing licensed practitioner
Expiration date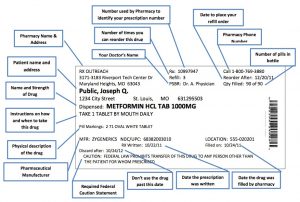 Medication strength;
Dispensing date;
Directions for use;
A pharmacy that dispensed the medication;
Prescription number;
Equivalency statement (when the brand or medication name dispensed is different from the brand or medication name prescribed.