How to start a home care business.
---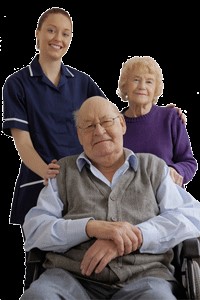 The idea of starting a home care business differs greatly from actually taking action to get an agency open and running. Writing this post comes the presumption the idea of starting a business has grown to where you'd like to actually learn how to start your dream.
        Before the action steps to start a home care agency are discussed, let's cover a topic that many to-be entrepreneurs don't think about: Evaluation of your strengths and weaknesses by asking some serious questions about yourself. Take a step back and truly consider the following questions, being very honest with yourself and the answers.
First – Ask The Tough Questions About Yourself (before jumping feet first into building the business)
A. Are you a go-getter and self-disciplined?
How well do you manage your time? It's up to you to make things happen. You'll need to organize and prioritize your time to create projects, schedule appointments, follow up and delegate tasks. Your phrase each day must become "If it is going to be, it's up to me!"
B. Are you a people person?
        In business, especially home care, people skills are a must.  Starting a home care company means establishing and growing relationships with banks, lawyers, employees, doctors, nurses, vendors, accountants, clients, and their families.  Can you deal with a hard to please the client?  How about unruly employees or pushy vendors? 
        C.  Do you have the time, energy, focus, and money? 
To start a home care business (or any business) requires a significant amount of investment! It demands your time, focus, energy, finances and more. You'll be sacrificing time and focus on family to get it launched, at least in the first 6 to 12 months until you have it set up correctly.
D. Are You Business Minded?
        Do you have a general understanding of business? Are you financially inclined enough to regularly review financial reports? You'll need to understand balance sheets, cash flow statements, Profit & Loss Statements, and various other reports. If numbers aren't your forte, some of it can be hired out. However, your ability to review, understand and act on financial reports can make or break your business.
E. Are you organized?
        The ability to plan and organize will save you tremendous amounts of time, headaches and money as your business grows. Organized systems for scheduling yourself and staff, finances, daily operations, and inventory are essential to smooth operations.
F. Are you motivated?
After you've put in 12 to 16 hour days and the excitements of a new business owner wears off, can you maintain the motivation necessary to follow through on your goals and plans? Burnout is a major contributor to businesses failing; self-motivation will be a strong factor in surviving burnout and slow times.
G. Is your family prepared for your commitment?
Does your family understand how they will be affected? Do you understand the time away? Support and understanding from your family will be essential as you launch your business and work to make it profitable. Your business will require much of your time and focus. It may mean time away from events and functions that are otherwise tradition. You may also experience financial hardships for a few months in the beginning and depending on the effort and outside factors – it could mean lean times for a year or more.
H. Do you have any of the personality traits that can help?
        Having any of these traits is not pre-requisite, however, they do lend themselves greatly to business owners in the home care profession.
Basic compassion, understanding, empathy, and desire to serve patients with illnesses.
Ability to build relationships; a network of individuals, institutions and industry leaders related to care.
Being a people person who is able to manage a growing staff.
A good decision-maker.
Once you've seriously considered the afore mentioned questions and still feel the home care industry is right for you – then it's time to take action to start a home care business.
Step 1 – Understand the Home Care Industry
        How well do you know and understand the home care industry? The senior care industry or providing care for people?  If you're going to enter this industry, you want to know and understand what you're getting into.  We won't discuss the demographics in detail as you'll learn best by doing the research yourself.  For now, here are the major areas you should learn about:
Types of Home Care;
Types of Home Care recipients (your clientele): seniors/elders, disabled, rehab;
The benefits of Home Care;
Services to Provide.
Step 2 – Research, Analyze and Define Your Market
Now that you understand what the industry is about and the options available, it's time to learn about your own market area, where you plan to do business and its surrounding areas- market analysis.
Define your geographical location, size, and population as well as coverage area.
Identify your competition.
Determine your coverage area.
Identify state laws and licensing requirements.
Step 3 – Create Your Business Plan
Without a home care business plan, you have no target. Without a target – where do you plan to hit? The business plan should be detailed enough that anyone who does read it can clearly see you've thought it through.
The business plan includes your financial details and projections. Many new business owners miss this most important step. Without laying the plan to your financials, your chances of failure are doubled. The reason is simple – by not managing the limited funds you are undoubtedly working with, they will be depleted quicker than you anticipate and your sales may not be where they need to be for the business to be self-sustaining (i/e: profitable).
Step 4 – Set Up Your Business
Here's where the rubber meets the road. With your well thought out plan in place, it's time to take action and start putting the pieces together. Many of these pieces can and should come together about the same time so you'll find yourself very busy.
The summary below outlines the major action steps:
Choose your business name
Corporate business name search
Verify trademarks
Set up the legal entity
Obtain a Fictitious Business Name Search
Obtain business EIN
Check Domain Names for website
Create a logo
Complete State licensure requirements
Set up your office
Create marketing paraphernalia
Step 5 – Prepare Operational Systems
Setting your business up with systems is paramount to the foundation you'll be laying down. Not doing so and you could run yourself crazy. Every task your business requires to operate should have a procedure created for it. Everything from your filing system to your telephone answering script. From time tracking to invoicing, payroll to financial reporting, scheduling to client retention. You'll also need forms to help make these systems run smoothly.
Step 6 – Hiring Home Care Staff
As you prepare to hire caregivers who will care for your clients, it's important you have a clear picture of what kind of employees to hire. What are the required qualifications you will have? How will you attract them to your company? Prepare for the applications coming in and how you'll review them. Having created the processes already, it's time to screen and interview them, then background check the qualified candidates before offering the jobs.
Once hired, caregivers need to be trained to your company's operational standards and way of doing things. Then, prepare to manage them.
Step 7 – Signing Clients
        One of the most exciting milestones in starting a home care business is signing your first client! Then five and ten. Obtaining the first few clients is simple for some and can present challenges for others.
Remember the character trait of being able to build relationships? Networking, meeting people and establishing relationships within the industry at the same time as carrying out the previous three steps helps enormously to signing your first clients.
Step 8 – Marketing Home Care Services
After the excitement wears away from signing the first few clients, realize that your journey has just begun. To grow the company requires marketing the company's home care services and not doing so, the company won't survive.
How to market home care services requires far more than a paragraph or blog posting. If you've gotten this far in your home care business development – you've probably done it with more guidance than this article. Take your business to the next level and learn How to Market Your Home Care Business.